Trimethylolpropane Triacrylate
Technical Data
| PROPERTIES | UNIT | SPECIFICATION | TYPICAL VALUE |
| --- | --- | --- | --- |
| Appearance | - | Transparent Liquid | Transparent Liquid |
| Purity | wt% | 85min | 89.5 |
| Moisture | wt% | 0.1max | 0.038 |
| Color of solution (HAZEN) | - | 50max | 20 |
| Density@20°C | g/cm3 | 1.09-1.12 | 1.10 |
| Acid Value | mgKOH/g | 0.025max | 0.003 |
Products Description
Other names: TMPTA
CAS: 15625-89-5

Molecular Formular: C15H20O6

EINECS: 239-701-3

Melting point: -66℃

Boiling Point: 200℃

Density: 1.10g/cm3

Molecular Structure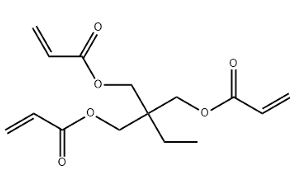 Trimethylolpropane triacrylate (TMPTA) normally used in the production of resin, inks, plastics and glue.
Applications
(1) TMPTA mainly used in UV-curable and electron beam coating and inks.
(2) It has good compatibility with acrylic prepolymer, can be used as active diluent.
(3) Widely used in light curing ink, surface coating, make products better resistance and hardness, also brightness.
Packing
Pakced in 200 kg iron drums;
Packed in isotank;
Package can be according to customer's requirement.