Surfacol 104 Series
Technical Data
| PROPERTIES | UNIT | SPECIFICATION | TYPICAL VALUE |
| --- | --- | --- | --- |
| Color, Pt-Co | - | 350max | 300 |
| Water | % | 1.0max | 0.2 |
| Purity | wt% | 98.5min | 99.0% |
| Appearance | - | White, wax-like mass | Conform |
| Boiling Point | ℃ | 260-263 | 261 |
| Density@20°C | g/cm3 | - | 0.89 |
| Melting point | ℃ | 40-50 | 46 |
| Flash point | °C | 110min | 113 |
Products Description
SURFACOL 104, nonionic, silicone-free, and free APE (alkylphenol ethoxylates) surfactant.

Thanks to its unique chemical structure, SURFACOL 104 support multifunctions such as reducing surface tension, controling foam and stablizing viscosity, it is stable from pH 3 to pH 12.
SURFACOL 104 is non-foaming Dynamic Wetting Agent for reducing dynamic surface tension in waterborne systems including coatings, inks, adhesives, pigment dispersions, dispersed dyes, agricultural chemicals and ore floatation etc., by significantly reducing water sensitivity.
CAS number 126-86-3
EC Number 204-809-1
HS Code Tariff Code 340219
Chemical name: 2,4,7,9-Tetramethyl-5-decyne-4,7-diol
Other name: 5-decyne-4,7-diol-2,4,7,9-tetramethyl
Molecular Formula: C14H26O2

Molecular Weight: 226.355
Density: 0.89g/cm3
Molecular structrue: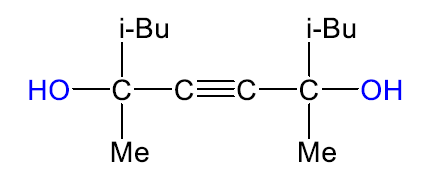 Normally, Surfacol 104 will be mixed with different solvents according to the different application. we are mainly providing follows solutions: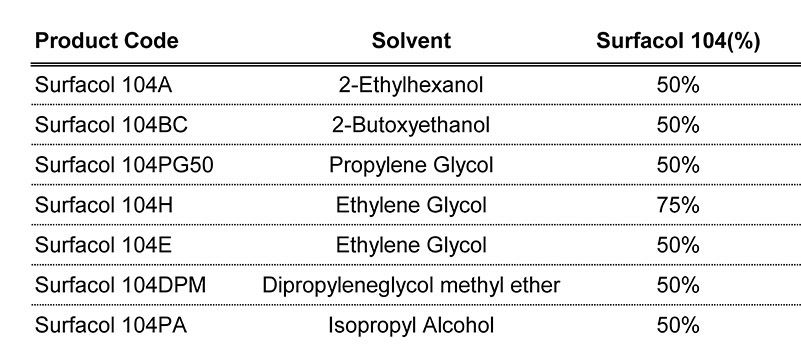 Applications
Due to limited solubility, Surfacol-104 is mostly dissolved in solvents like ethylene glycol at 35 – 65% for application. These solvent cuts are recommended in high speed waterborne applications which require low dynamic surface tension providing good wetting properties while controlling foam issues such as coatings, inks, overprint vanish, fountain solutions, pressure sensitive adhesives and laminating adhesives, pigment and dye dispersions, rubber compounding and emulsion polymerization etc. It is especially suitable for aqueous acrylic or styrene-acrylic emulsion applications.

Dosage & Instruction

General use levels at 0.1% – 3% based on total formulation.

Adding surfactant at early stage of formulation for better dissolution.

Moderate agitation for minimum 15-30 minutes for maximum mixing.

Addition to the coating as supplied or as a pre-dilution is possible.

Addition to the grind is recommended in pigmented systems.

Applying ladder study for optimal dosage and conditions of addition.
Packing
Packed in 25 kg iron pails;

Packed in 180 kg plastic drums;
Customized packing can be avaiable against discussion.